About us

Structure of the Institute

Technology Transfer

Organized Activities, Training and Teaching
Geoenvironmental Processes in Forest Areas (GEOFOREST)
Introduction:
The Geoforest group from the Department of Geography and Land Management, University of Zaragoza (DGOT-UZ), is integrated in the Research Group of Excellence E-68 on "Geomorphology and Global Change" (IPE-CSIC and University of Zaragoza) from the Government of Aragon (BOA 54, May 15, 2006).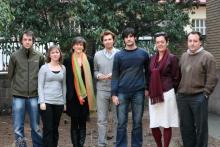 Research Lines:
Forest fires: fire risk modeling and post-fire environmental dynamic monitoring(vegetation recovery, soil disturbances, post-fireerosion).
Estimation of forest biomass.
Landscape mapping and diagnosis.
Geo-hazards and Georesources mapping.
Use of remote sensing imageries empirically based on experimental field work.
Regional modeling, cover change analysis, upscaling… GIS environment.
Field radiometryand high spatial resolution photography.
Optical, radar and LIDAR sensors.
Background:
Geoforest (GEOenvironmental processes in FOREST areas) have developed its research activity since the 90s in the forest management problematic, covering the wide variety of environmental processes –geomorphologic, hydrologic, biogeographic, edaphic and even anthropic- that commonly converge in forest ecosystems. One of the objectives of the group activity is the application of the investigation results to land management, highlighting in this way the landscape applied research works.
This activity has been developed at different temporal and spatial scales, requiring the application of a wide range of tools and techniques and combining the use of remote sensing imageries empirically based on experimental field work, regional modeling, cover change analysis, upscaling… in GIS environments or the advances in certain specialized techniques as the use of field radiometry, high spatial resolution photography and optical, radar and LIDAR sensors.
Facilities and equipment:
Resources:

ERDAS Imagine.
Gamma Software (radar).
ArcGIS 10

Instruments and equipment:

Laboratory:

Computers and laptops
Digitizer tablet, A0 and A3
Plotter, A0.
Soil laboratory

Field:

Spectroradiometer: AvaSpec-2048-USB2-RM, 300-1100 nm
Spectroradiometer: AvaSpec-NIR256-1.7, 1000-1700 nm
Digital camera: ReflexNikon D100
PDA, GPS (Double Frequency Geodesic GPS), GPS (sub-metric GPS), GPS (metric GPS, automatic station).

Permanent experimental instruments in the field:

Catchment gauging station in Alastuey:

Discharge gauges –flumes– (2).
Rainfall gauges (3).

Aisa and Peñaflor experimental areas:

Experimental plots, 8x3 m (4): Gerlach boxes, runoff and rainfall gauges, thermohygrometer, data-logger systems.

Zuera Mountains experimental area: rainfall gauge, soil samples, rainfall interception plots, infiltration and rainfall simulation plots, erosion traps, post-fire hydrophobicity analysis.

40 transectos de vegetación para evaluar la regeneración vegetal y edáfica tras el fuego. Periódicamente se toman muestras de suelo y se realiza un inventario de la vegetación.
Muestras de suelo para evaluar el papel de la cubierta de musgo y acículas quemadas en las características edáficas posteriores al fuego.
Parcela experimental con el objetivo de analizar el papel de la vegetación quemada en relación con los diferentes procesos de llegada de agua al suelo (interceptación, transcolación, escorrentía cortical, precipitación libre) intentando evaluar el efecto de los distintos grados de severidade del fuego.
Pruebas de infiltración y de simulación de lluvia en diferentes microambientes.

Experimental works:

Prescribed fires:

Thermocouples. (*)
Non-Contact Thermometer. (*)

Field radiometry / High spatial resolution photography:

Mobile metal structure with black canopy.
Tripod.

Others:

Rainfall simulator.
Infiltrometer.

(*) Equipment from other research groups.
Technological Offer/Services:
In general terms, the Geoforest research activity is focused on territorial analysis -of physical and socio-economic variables- by means of GIT (Geographic Information Technologies) and field work for land management and landscape analysis:
Analysis, modeling and mapping by means of GIS (Geographic Information Systems) and remote sensing (from space, field radiometry…) of territorial variables,not only physical, but also socio-economic aspects, for the diagnosis and resolution of environmental and territorial problems.
Development of predictive models for the land management (fire risk mapping, ecologic vulnerability…).
Land management works at different scales:

Environmental processes analysis in areas affected by wildfires.
Natural resources analysis and management.
Environmental risk analysis and mapping.
Landscape analysis, diagnosis and thematic mapping.

Environmental educational activities in which traditional tools (maps, aerial photogrammetry…) and more advanced tools (multimedia software…) are applied.
More specifically, Geoforest research focuses on forest ecosystems: forest fire risk modeling and analysis of the dynamic followed by areas affected by wildfires, as well as the estimation of forest residual biomass and the landscape analysis.
 
Forest fire risk modeling
In cooperation with other national leading research groups, Geoforest has developed a framework for fire risk assessment, which provides daily information, at 1 km2spatial resolution and integrated into a web-mapping service system, of both fire danger (ignition or propagation potential) and vulnerability or potential fire damage. The system is implemented using remote sensing (MODIS satellite images) and geographic information system technologies and includes the potential that a fire ignites, considering both sources of ignition, human and natural, probability of ignition associated to the moisture status of plants, propagation potential, the degradation potential, and the landscape and socio-economic value of the areas affected by fires.
Post-fire environmental dynamic diagnosis and monitoring
Moreover, the post-fire environmental monitoring (vegetation recovering, soils losses, and hidro-geomorphologic behavior), both at local and regional scale, and fire severity mapping provide useful information for restoration work planning and management after a fire event.
Biomass estimation
Geoforest group has also successfully developed a methodology for residual forest biomass estimation (forest residues generated in forestry management and exploitation operations) based in the use of remote sensing satellite imageries (as for example Landsat TM/ETM, currently of almost free access) and GIS modeling of environmental and territorial variables (slope, forest area, distance to path) and from the National Forest Inventories. The use of this biomass fraction not only offers significant environmental (decrease in fire risk, fight against climate change…) and socioeconomic (employment and infrastructure increase, etc.) benefits but also gives value to a resource extremely useful as fuel for renewable energy production.
Landscape studies
Geoforest has also developed an intense activity in the landscape field of work. A landscape analysis methodology has been implemented for the landscape study, which combines the geosistemic, visual and subjective, or social participation, point of view. The results of this methodology are presented as landscape basic maps (homogeneous units, visual units and visibility mapping), diagnostic mapping (quality assessment, fragility, aptitude …mapping), dynamic mapping (evolutionary mapping, change modeling in different predictable scenarios…). Besides, some landscape indicators have been implemented.
Contact:
Dr. Juan de la Riva
Head of Group
delariva@unizar.es
Department of Geography and Land Management
Faculty of Phylosophy and Literature