About us

Structure of the Institute

Technology Transfer

Organized Activities, Training and Teaching
You are here
Home
>Mineral resources
Mineral resources
Introduction:
The origin of this interdisciplinary group was the union of Geology of Clay Minerals and Applied Mineralogy groups. Aragon Government recognized the group in 2005. It is composed by 8 researches.
The goal of the group is focused on the acquisition of knowledge about diagenetic and metamorphic processes of low grade, ore deposits formation and the characterization of magmatic processes, recharge of magmatic systems and the evolution of intrusive systems.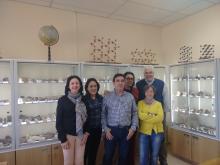 Research Lines:
Characterization and genesis of mineral clays.
Ore deposits study.
Mineralogy and geochemistry applied to paleoclimatology and definition of global bioevents and their causes.
Mineralogical and geochemical study related to magmatic evolution processes.
Develop teaching resources.
 
Background:
Some relevant projects:
-  Unusual magmatic-hydrothermal systems as sources of critical metals.
-  Characterization and metallogenic modelling of manto-type Cu and Ag deposits: the Picachos Mining Project (Chile)
-  Phyllosilicates analysis on the study of sedimentary continental facies.
-  Chromium spinel as petrogenetic indicator in rocks affected by metamorphic and/or hydrothermal processes.
-  Characterization of environmental and climatic changes from indicators registered in sedimentary continental interrelated systems.
- Kaolin clays deposits (Facies Weald) in the Maestrazgo Basin: Mineralogy, physic-chemic, micro-structure and genesis of phyllosilicates.
-  Dolines: natural risk, prediction and paleo-environmental markers.
-  Characterization of micro and nanostructured materials applied to separation processes.
- ¬†Multidisciplinary analyses of the fluvio-lacustrine system of A√Īavieja-D√©vanos (Iberian Range-Cameros Basin) as marker of paleo-environmental changes from upper Pleistocene.
- Time perspective in the analysis of dangerousness of karstic subsidence: Comparison of the evolution of palaeo-dolines and active dolines in the Ebro basin.
 
Facilities and equipment:
Philips PW1729 Diffractometer
Infrared microscopy for micro-thermometry
Bibliographical resources and specialized library collections
 
Laboratories and others equipments from the Research Services of the Zaragoza University
 
Technological Offer/Services:
Study and characterization of materials, rocks and mineral resources
Exploration targets