Last Thursday, March 24, the "Hackathon for the SDGs: Water and Climate Change in Central America" took place, organized by ECODES, in which researchers Carmen Menacho and Samuel Moles, researchers from the Water and Environmental Health group, participated.
The event consisted of a day in which, guided by some mentors, the participants had to present the proposal of a possible project to be carried out to raise awareness, help, solve or mitigate some aspect related to the problem of water and climate change in Central America.
The group made up of Carmen Menacho, Samuel Moles and Claudia Bisharat presented the proposal called "Drinking water in rural areas" which consisted of "On-site training to build a rainwater storage and purification system aimed at women", with the who won the first prize.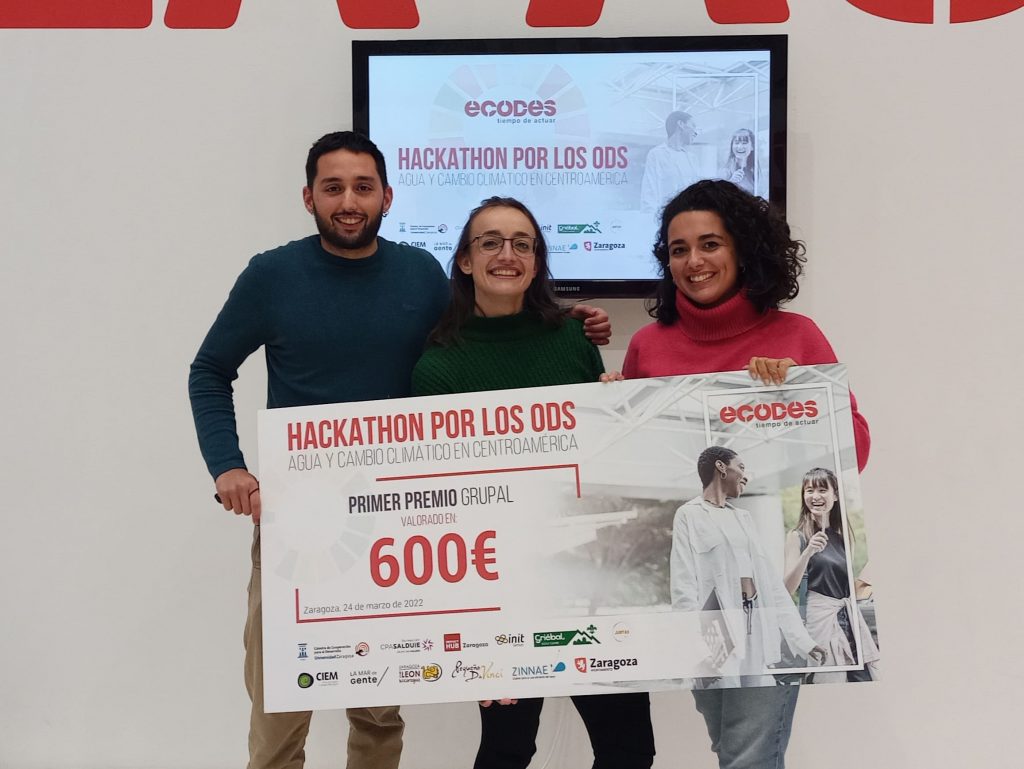 This activity, promoted by organized by ECODES, sought to design possible responses to the problems in Central America on water and climate change, joining professional efforts of companies, both large and SMEs, and young people, the latter with technical profiles, especially specialists in software and hardware, engineers, architects, designers…, making a specific call for the participation of women. It is essential that the participants understand the problem beforehand, so that in the Hackathon they can design solutions to the challenges posed. To facilitate this, relevant and synthesized information on water and climate change is provided, from the study carried out thanks to the Zaragoza City Council, in its 2019 Cooperation call, and which generated the bases to be able to carry out this Hackathon. In addition, so that the final ideas are consistent with reality, they have the support of expert mentors.