About us

Structure of the Institute

Technology Transfer

Organized Activities, Training and Teaching
Analytical Spectroscopy and Sensors Group (GEAS)
Introduction:
Research group (E44), consisting of 22 members (12 permanent PDI, four graduate research fellows and six technicians), recognized by the regional Government and the University of Zaragoza. The group is an international leader in the field of Analytical Environmental Nanoscience and Nanotechnology and the research and development of nanostructured biosensors with applications in food control and important parameters in clinical analysis.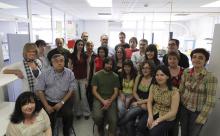 Research Lines:
Analytical Environmental Nanoscience and Nanotechnology

Functional Speciation and Multielemental Chemistry in natural Nanoparticles: NOM, Colloids, Biocolloids: Phytoplankton, Proteins.
New Techniques and Analytical Methodologies for the characterization of engineered nanoparticles in natural environments: Ag, Au, Co, Fe, metal oxides ...

Analytical nanostructured biosensors

Design and development of biosensors (immunosensors and Aptasensors) for determination "in situ" of contaminants in food and other parameters in Clinical Biochemistry. Environment and Agri-Food sectors.

Characterization of strategic materials by non-destructive instrumental methods

Archeometry. Artistic and Monumental Heritage.
New Materials.
Background:
The group develops its work in basic and applied research, funded through research projects in regional, national and European competitive calls. The group also maintains close contacts with groups from international research Centres and Universities of Florence, Pau, Montpellier, Delft, Karlsruhe, Southampton, Plymouth, Cincinnati and Berkeley. The research activity of the group can be summarized in the publication of nearly 400 articles in journals indexed in the Science Citation Index, more than 550 contributions to national and international conferences, more than 40 PhD and over 200 undergraduate research projects.
Facilities and equipment:
ATOMIC SPECTROSCOPY
Atomic absorption spectrophotometer, Perkin-Elmer, Mod 3030; with autosampler, Perkin-Elmer AS-60, Atomic Absorption Spectrophotometer, Perkin-Elmer HGA 400; spectrophotometer Perkin-Elmer Atomic A-300 with electrothermal atomization. Slurries device; Zeeman Atomic Absorption Spectrophotometer. Varian, Ionization Inductively Coupled Plasma - Mass Spectrometer DRC. Perkin-Elmer, Laser Ablation System Nd: YAG Q-switch. Brilliant ultra. New-Wave, Atomic Emission Spectrometer Inductively Coupled Plasma. Thermo Iris.
MOLECULAR SPECTROSCOPY
RF-150 spectrofluorimeter, Shimadzu; Spectrophotometer IR, PyeUnicam; spectrophotometer. UV-VIS Diode-Array HP 8452A; Spectrofluorimeter-Luminometer modular PTI; Refractometer Atago 3250; ELISAs
SEPARATION TECHNIQUES
High Resolution Liquid Chromatograph Waters UPL; Detector Diode Array UV-Vis Waters; Fluorescence Detector HP, HP refractive index detector; High Resolution Liquid Chromatograph Kontron UV-VIS, electrochemical detector LKB; Kontorn Fluorescent detector, detector UV-Vis Kontron , Low-pressure Liquid Chromatography semi-preparative Bio-Rad ; Assymetric Flow Field Flow Fraction with Photodiode Array UV-VIS detector (Postnova Analytics); Monodimensional Polyacrilamide gel electrophoresis Biorad, Two-Dimensional Polyacrilamide Gel Electrophoresis Biorad, Continuous Flow Column Biorad Gel Electrophoresis, Isoelectric focusing electrophoresis.
Electroanalytical techniques
Orion Ion - analyzer; Conductivity Crison 525; Inelec polarograph. Tast (DCT), (NPP), (DPP), (SWP), (LSP), (ASV, CSV).; Potentiostat Autolab PGSTAT 10., Quartz microbalance; amperometric detector Coulochem-Coulombimetric-II (ESA), Petit Ampere 5-200 nA / V (Bioanalytical Systems) LC-4C amperometric detector (Bioanalytical Systems)
VARIOUS
Ultracentrifuge Heareus Megafuge 10; Ultracentrifuge Heraus Biofuge 17S
Technological Offer/Services:
Development of Analytical Methodology.
Analytical instrumental techniques advising.
Development of sensors.
Characterization of materials.
Training of technical staff of Analytical Laboratories.
Contact:
Dr. Juan R. Castillo
Head of Group
Tfno 976 761289
jcastilo@unizar.es
Institute of Environmental Sciences
Dept of Analytical Chemistry
Faculty of Science, Ed D, 1st floor C / Pedro Cerbuna 12 50009 ZARAGOZA