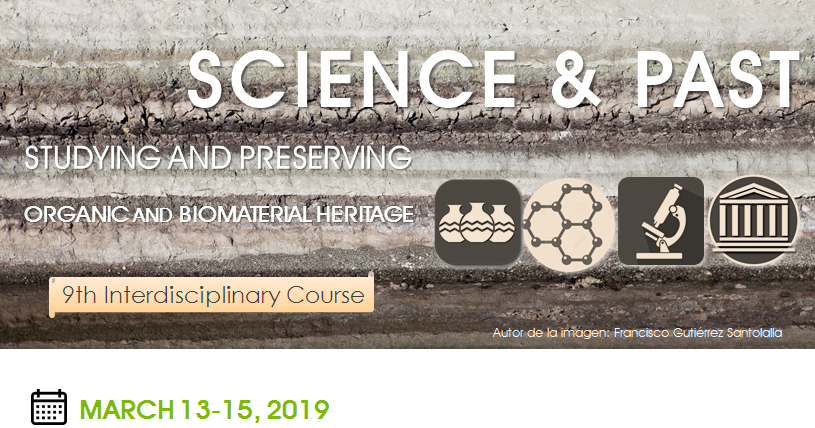 The course is focused on the development and use of scientific techniques in order to extract archaeological, historical and conservation information from organic and biomaterials belonging to our cultural heritage. In this edition, special focus will be given on understand and preserve these type of materials through an in-depth scientific approach.
The lectures are addressing to students, researchers and professionals in chemistry, physics, biology, paleontology, archaeology, conservation science, etc., to acquire a solid knowledge on the state of art of this topic, applied to the study, safeguarding, conservation and authentication of material heritage.
PROGRAM
Program and activities will include topics on:
– Introduction: scientific analysis and cultural heritage materials
– Analytical techniques for organic materials
– Characterization of resins, lacquers, oils, fats, …
– Biomaterials: bones, teeth, ancient DNA, …
– Studies on wood, paper, cotton, wool, …
– Techniques for the imaging, microexamination and analysis of materials
FULL PROGRAM COMING SOON
Course coordinator:
Dr. Josefina Pérez-Arantegui (Instituto de Investigación en Ciencias Ambientales-Universidad de Zaragoza)
REGISTRATION
Please use this on-line registration form   

REGISTRATION FEES:
|   Registration period |   Date |   Senior Registration Fee |   Student Registration Fee |
| --- | --- | --- | --- |
|   Early registration | until February 27, 2019 | 150 € | 80 € |
|   Late registration | from February 28, 2019 | 200 € | 100 € |
SPECIAL FEES FOR STUDENTS OF THE UNIVERSITY OF ZARAGOZA: 20€
REGISTRATION FEES INCLUDES
– Attendance to course sessions
– Program and course documentation
– Certificate of attendance
– Coffee Breaks
PAYMENT
Payment (in euro) should be made by bank transfer to:
Bank: Ibercaja
IBAN: ES 82 2085 0111 79 0330788546
Swift code: CAZRES2Z
Please, include clearly your name in the bank transfer voucher
CONFIRMATION OF REGISTRATION
Your registration will be confirmed when the payment of the registration fee is received by the organizers (please, send copy of the bank transfer to iuca@unizar.es). Written confirmation will be sent by e-mail
FINANCIAL SUPPORT
Financial support will be given for a limited number of participants to cover travel expenses in full or partly. Applicants should send a letter to the organizing committee explaining the reasons for applying financial support and listing the possible expenses, together with his/her curriculum vitae and a supporting letter by his/her supervisor.
The information should be sent by email (iuca@unizar.es) before February 20th, 2019
KEY DATES
Early registration deadline: February 27th, 2019
Application deadline for financial support: February 20th, 2019
VENUE
Salón Actos Edificio Matemáticas (Facultad de Ciencias)
Campus San Francisco. University of Zaragoza.Zaragoza. Spain

More info: iuca@unizar.es
THE NUMBER OF PARTICIPANTS IS LIMITED (ACCORDING TO REGISTRATION ORDER)